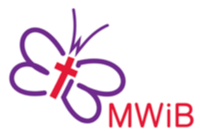 Who Are We?
Methodist Women in Britain (MWiB) is not a private club that you must join:  if you are a woman and a Methodist, then you already belong to this group.
We have a proud heritage stemming from the twin roots of Women's Work, founded in the 1858 to support training and care for women missionaries, and Women's Fellowship, started in 1945 out of a concern to address social problems resulting from the war.
These two movements merged in 1987 to form the Women's Network of the Methodist Church, with a clear place in the Methodist Connexional team. Change came in 2008 resulting in the launch in 2011 of Methodist Women in Britain as an independent, self-financing organisation.
Our aim today is to connect women with an interest in creative spirituality and a passion for global social justice.
Methodist Women in Britain's main decision-making body is the FORUM, which meets twice each year.  Every district in the British Methodist Church has a representative on the Forum who meet along with the executive members, the Helen Kim Scholar and the Women's World Day of Prayer Methodist representative.
MWiB has a seat at the Methodist Conference and relates to many parts of the Connexional Team. However, MWiB does not have Connexional Team staffing, nor funding from the Connexional budget.
For more information about MWiB see the National Website: http://mwib.org.uk/ where you will find useful resources and information about national events.
The District President's Charities
The District President chooses two charities that over her two-year tenure we support through fund raising and personal giving. An example of this is Sunshine Money which is collected throughout the summer and which is dedicated at an appropriate event.  The idea is that you save a pound (if you can) for each day of sunshine during August and then it is collected in during October.
The charities this year will be Cricket Without Boundaries (CWB) which  is a UK registered charity that uses cricket as a vehicle for delivering health and social messages in sub-Saharan Africa. It is run almost entirely by the dedication and enthusiasm of its volunteers.
Since its formation in 2005 CWB has become one of the world's leading Cricket Development charities. It is dedicated to helping, educating and developing local communities around the world through the spread and growth of cricket.
CWB has three main goals:
To spread cricket through coaching children and teaching adults how to coach; and
To link the sport to health and social messages and incorporate these messages into coaching sessions.
To bring together and empower local communities through cricket.
These goals are achieved through project delivery by volunteers and year-round delivery in-country by their ambassadors.
They are also heavily involved in the work to stop FGM (Female genital mutilation/cutting) which includes procedures that intentionally alter or cause injury to the female genital organs for non-medical reasons. FGM is mostly carried out on young girls between infancy and age 15. The procedure has no benefit for women or girls.
FGM is practiced in more than 29 countries across Africa, parts of the Middle East, South East Asia and countries where migrants from FGM affected communities live including the UK. More details can be found on this link:  http://www.cricketwithoutboundaries.com/
The second charity is IDAS, (Independent Domestic Abuse Service) which started life as York Women's Aid over 40 years ago.  York Women's Aid was one of the first refuge providers in the UK and was developed from a 2 bedroom flat donated by a local businessman.
More than 10 years ago they started to work outside of the area of York to deliver community based services in Easingwold and Northallerton.  They also began providing support to male victims of abuse.   To reflect their new areas of work and new remit, they decided to change their name to Independent Domestic Abuse Services (IDAS).
In 2010, Harrogate Women's Aid merged with IDAS and over the next few years, Selby and Craven Domestic Abuse Services did the same.  They now work across North Yorkshire and have won contracts to provide services in Scarborough and Ryedale along with a countywide contract to provide ISVA (Independent Sexual Violence Advisor) support to victims and survivors of sexual violence. More information can be found on this link: https://www.idas.org.uk/
METHODIST WOMEN
in
BRITAIN
YORKSHIRE NORTH AND EAST DISTRICT
"Let there be Light"
DIRECTORY AND PROGRAMME
2019 – 2020
"Let there be light – Walk in the Light"
Trinity Methodist Church Hull HU5 2EJ
10 a.m. for 10:30:
Induction of Janet Duck as President with Rev Leslie Newton. An afternoon with Rev Val Ogden


Elm Ridge Methodist Church Darlington
World Federation Day (Booking necessary)
"Let there be light – on the Partnerships"
Haxby Methodist Church YO32 2JJ
District Meeting and Launch of the Presidents Partnerships 
Come and find out more about MWiB,
Connexionally and in the District
pm Launch of Partnerships
"Let there be light – in the Darkness"
Southlands Methodist Church York YO23 1NX
Advent Creativity Morning with Lunch 10am-1pm
Friday February 21st-Sunday 23rd 2020
"Let there be Light –
District Conference at Cober Hill, Cloughton, Scarborough
"Let there be Light – Sharing Bread and Wine"
District Meeting at Haxby Methodist Church YO32 2JJ
Everyone welcome to a time of sharing and learning about what's going on in MWiB
Annual Communion Service led by Revd. Ruth Parry
Friday 3rd   – Sunday 5th   April 2020
Swanwick Conference – Keynote Speaker will be
Mrs Jill Baker, former MWiB President
More details later
"Let there be Light – Faith lights up our lives"
Lidgett Grove Methodist Church YO26 5NH
A Day with Susannah Wesley
Led by Deacon Denise  Creed


"Let there be Light – in Fun and Fellowship"
Barlby and Osgodby Methodist Church YO8 5HG
A Very English Afternoon Tea at  3pm
Provided and led by the officers           Details and tickets available nearer the time.
District Officers
President              Miss Janet Duck
Vice- President   Mrs. Janice Clark
                                Email –  clark.janice@gmail.com
 Events                 Mrs. Anne Kirkman
                                Email – anne.kirkman@icloud.com
Conference           Deacon Sue Langdale
                                Email –  deaconsue.langdale@gmail.com
Minutes                 Mrs. Ruth Bryan-Smith                          
Email –  ruthmarybryansmith@gmail.com              
                            01482  655048                                                       
Treasurer              Mrs. Ann Baarda                                                    
                              Email –  eabaarda@mypostoffice.co.uk                      
                               01757  709057
Forum Rep            Deacon Denise Creed
                                Email – denise.creed@methodist.org.uik
District Chaplain. Rev. Ruth Parry
                                Email – ruth.parry@methodist.org.uk             
If crèche facilities are required at any event please contact Anne Kirkman in advance. 
Unless otherwise stated, please bring something for a "Bring and Share" lunch for day events. Drinks are available at the venues.
All meetings unless otherwise stated, begin informally with coffee at 10am and formally by 10.30am and finish by 3.15pm.